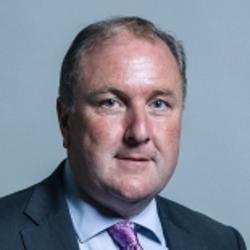 The Parliamentary Under-Secretary of State for Levelling Up, Housing and Communities (Simon Hoare)

- Hansard - - - Excerpts
If only you had known, Mr Vickers, how long I have waited to hear that word, and then find myself rising to speak. It is about eight and a half years since I was elected in 2015, so it really is a pleasure for me to say "It is a pleasure to serve under your chairmanship" this afternoon. First, I thank my hon. Friend the Member for Dudley North (Marco Longhi) for raising this issue, which is important for him, his constituents and the wider community, and I compliment him on the measured way in which he did it. There is an irony in a teetotaller replying to a debate on heritage pubs and, having filled out quite a few forms with on ethics over the last few days as part of the ministerial process, finding the word "crooked" in the title of my first Westminster Hall debate did make me a little apprehensive.

To start, my hon. Friend suggested some potential legislative changes, or, certainly, those that may require investigation. My door, and the door of the Department, is open for him to come in at any time, and we can further those conversations. As the debate has shown, the issue is important on many levels. I was struck when my hon. Friend the Member for Uxbridge and South Ruislip (Steve Tuckwell) said—I hope I quote him correctly—that these "are not just community hubs, they are the community". How right he is. His rightness was, I suppose, only echoed by the rectitude of his constituents in returning him in the recent by-election, on which I congratulate him as a Conservative to a Conservative by-election winner. We have had not had many opportunities to say that in recent times, a trend that I believe will change pretty quickly.

Of course, no Westminster Hall debate would be complete without my friend the hon. Member for Strangford (Jim Shannon), who I thought would have been so relieved to have seen me out of the chairmanship of the Northern Ireland Affairs Committee that he would not have wanted to hear my voice again. But here he is, and it is always a pleasure to see him. It is little bit like Christmas cake, I suppose—even if one does not like it, you do not really feel that Christmas is complete without a Christmas cake on the tea table. No debate in this place is complete without my friend the hon. Member for Strangford.

Before I forget, my hon. Friend the Member for Dudley North asked for the date for the implementation of the building preservation notice. That falls within the bailiwick of the Department for Digital, Culture, Media and Sport. We will inquire of ministerial colleagues about that, and I will write to my hon. Friend to make sure that he has an answer as to when that will come into effect.

I join my hon. Friend in thanking those campaigners, who are feeling such a huge sense of loss at this tragedy. It is a tragedy to lose such an important local asset. For many, it will feel like a bereavement: a loved building in a community has been suddenly taken away in circumstances that one can only describe as suspicious. They will be feeling that locally, so I join my hon. Friend in congratulating them for all their efforts, and I also congratulate him for corralling them in making those efforts to ensure that, although there is no way to turn the clock back, we try to identify ways whereby the opportunities for these sorts of events to happen—because one can never say that they will never happen—is militated against. My hon. Friend will understand that a live investigation is ongoing, and it would be remiss of me to say anything that may in any way prejudice that investigation—campaigners would be furious with me were I to do so. I think that the debate has reflected that.

The building preservation notice is, of course, part of the Planning (Listed Buildings and Conservation Areas) Act 1990, which provides opportunities for councils to issue notices. Those preservation notices are in place for six months, and that is an important protection, particularly if a listing application is run alongside or in tandem with the notice. Like a lot of these things, they exist, but we often forget that they exist. I am grateful to my hon. Friend for the opportunity to place on the record, once again, that the preservation notice exists.

The point about demolition is important. The demolition of a pub has a very particular status within the planning process. The demolition of a pub without planning permission so to do is considered, for the purposes of the planning system, to be development, and councils have an existing power to enforce a total rebuild. There is also the opportunity for fining if they refuse to comply with the enforcement notice, and that fining is unlimited. Certainly, my ministerial colleague, the Minister of State, pointed out to me that a building in the City of Westminster was demolished without the relevant consents, and the city council successfully enforced that it should be rebuilt brick for brick. So, in the case of that developer and those who seek to circumvent or circumnavigate our rules, undermining them for sharp practice, there are powers that can be used, and I would urge all local authorities to use them.

Many of the points that my hon. Friend the Member for Dudley North raised in his speech are, of course, slightly tripartite in nature. Very often, we feel that life would be much easier if one Department had sole responsibility. Many of the issues that my hon. Friend mentioned obviously touch on policies within my Department, but also touch on policies within the Home Office, and he referenced the police, and on what I suppose many campaigners would say is the slightly—let me put it diplomatically—eccentric requirement that, once initial investigations have been undertaken, the site that has been investigated has to be handed back to the freeholder. I hope that I will not prejudice the investigation when I say that it would not take Hercule Poirot to raise an eyebrow with regards to the rapidity of the arrival on site of bulldozers, almost before the last embers of the fire had died out; I believe in serendipity, sometimes, but even that belief can be stretched beyond breaking point.

I have spoken to ministerial colleagues in my Department, and it is the Minister of State, my hon. Friend the Member for North East Derbyshire (Lee Rowley) who will lead on this; I am replying to today's debate because he had previous duties. We are happy to take the lead as a Department and to organise a tripartite discussion between us, the Home Office and DCMS to try to work out whether we can iron out any wrinkles or make any tweaks to make the process a little easier to understand and implement.

I will say a few words on pubs and change of use. The shadow Minister, the hon. Member for Ellesmere Port and Neston (Justin Madders), was right and sensible to talk about the change in our high streets, and the change in demand for pubs and how and where we spend our leisure time. When people seek a change of use for a public house, it is to be expected that most local authorities, certainly in my experience, will ask for a number of reports to justify a positive determination of that application. They will certainly take into account the number of operational pubs in the area. They will seek verified reports of a sincere marketing campaign, where that pub asset has been advertised—has it been in the trade press or the local press, and so on? Were they seeking realistic offers, or were they trying to price it so far outside the market to effectively arrive at a position where they could not sell it as a going concern because they had been asking such a grossly inflated price?

If the applicant for the change of use does not satisfy any of those key tests—which, of themselves, provide a certain degree of comfort to residents and safeguards for those who use the assets—by definition, the presumption of a change of use is not to be given. As we know, no system is perfect, and it depends upon thorough analysis and the potential for buying in professional third-party advice to peer review those marketing documents. However, it is not an easy thing to do.

My hon. Friend the Member for Dudley North has made a number of policy suggestions, and we will reflect on them. It is important to note, however, that there is always a temptation for Ministers to promise the Earth, as though with a stroke of a ministerial pen all problems will be erased and nothing bad will happen. Will buildings burn down? Yes, of course. We are not going to be able to eradicate that, but we need to make sure that the investigatory powers are there.

We also need to be careful, because there is a fine balance to strike—sometimes it would require the judgment of Solomon to do it—in the operation of the market. A freeholder can legitimately dispose of an asset, for a continuation of use within the prescribed use class or for a change of use, or to move it on to a further use if that building is deemed redundant. At the heart of what was said by my hon. Friends the Members for Dudley North and for Uxbridge and South Ruislip, and indeed the shadow Minister, is that the community's requirements and desires need to be taken into account as part of the evaluation process. As we know, so much of our high street and leisure time is changing. However, I suggest—I hope uncontroversially—that nobody wants to see, merely for the sake of retention, buildings retained that will fall into a state of disrepair and decay, and which are of no asset whatsoever to our high streets and communities and will often have a negative societal impact during that period of degradation.

I will be careful on listing because that falls within the purview of DCMS. It is an important point. It involves a process, and there are always going to be ways of speeding up that process to give greater clarity and certainty. I take the shadow Minister's point on the need for a clearer definition of what we actually mean by a heritage pub. We have made great progress in the creation of assets of community value. They have made a significant contribution since they were introduced in 2011. Are they perfect? Is the mechanism un-clunky in all respects? Of course not. Could it be reformed or improved? Most definitely. That may well form the basis of conversations to be had with my hon. Friend the Member for Dudley North as we move forward.

In conclusion, this is a serious issue. My late father always used to say, "If you're going to cheat, cheat fair." I know that that sounds like a contradiction in terms, but most of our communities and constituents shy away from what looks to be sharp practice—something underhand, something designed specifically to frustrate and undermine a process of transparency and accountability. While none of us would resile from the human desire to generate a profit, sometimes that sharp practice, merely in the pursuit of profit, falls under that old phrase, the "unacceptable face of capitalism", which you and I will remember, Mr Vickers, from the comments of previous politicians on a number of points.

I share the concerns, anxiety and upset of my hon. Friend the Member for Dudley North and his constituents about this serious issue. I reassert what I said at the start: we stand ready to help and to do what we can, between the three Departments, to try to ensure that we can limit, as much as we possibly can, these circumstances happening again. Unfortunately, however, the circumstances that he set out at the start of his speech mean that people will not see the return of the Crooked House as they knew and loved it. I read history at university; there are some buildings that speak of history and times, and one could only envisage the times that a pub from 1765 has seen, the trials and tribulations that it has survived and the conversations that it has eavesdropped upon. It is a huge and serious loss. We shall let the investigatory authorities do their job, but we stand ready to help my hon. Friend and other communities to ensure that such important community assets have the strongest protections that we can possibly derive.