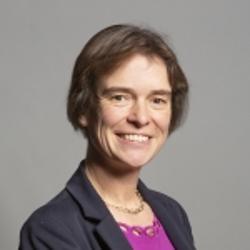 Selaine Saxby (North Devon) (Con)

- Hansard - - - Excerpts
I beg to move,

That this House has considered floating offshore wind.

It is a pleasure to serve under your chairmanship, Dame Angela. I will start by welcoming the work of the Department for Energy Security and Net Zero and, in particular, that of my right hon. Friend the new Secretary of State in developing floating offshore wind—which I will refer to as FLOW for the rest of the debate—right here in the UK.

FLOW represents a huge opportunity for the UK as a whole, but especially for coastal communities such as my own in North Devon. I particularly thank the new Secretary of State for her engagement following the results of the contracts for difference allocation round 5. Indeed, in her own maiden speech, she celebrated the role of her constituency in pioneering renewable energy and celebrated our being a world leader in offshore wind.

Yesterday's announcement that the Government have halved inflation since the start of the year was very welcome, as is the reduction of energy bills. As we all know, the price jump was caused by Russia's illegal invasion of Ukraine, but it demonstrated just why we need to accelerate the development of sustainable British energy generation. We live on a very windy, very tidal and sometimes even sunny island, and my North Devon constituency is particularly blessed with all three. If we can increase the amount of energy that we generate from these renewable sources, British households will be better insulated from global energy price shocks and able to rely on secure, clean energy.

We have already seen the potential that onshore wind and fixed offshore wind has, and it is fantastic to see it generating more and more of our energy mix. FLOW can potentially take that even further. A common criticism of our continued development of wind turbines is that they only work when the wind blows the right way. Traditionally, our offshore wind farms are situated off our north-east coastline, where the waters are shallower and the current is less temperamental—conditions that work for fixed offshore wind. In the Celtic sea, the wind blows the other way around, but the Atlantic Array was unable to go ahead because of the deeper waters and the strong currents coming in off the Atlantic. FLOW will open up areas such as the Celtic sea, so that we can generate energy no matter which way the wind blows. As it can be deployed in waters deeper than 60 metres, this technology opens up 80% of our offshore wind resource.

FLOW is set to make up to 5 GW of our energy generation by 2030, and 50 GW by 2050. It has the potential to bring in 29,000 jobs and £43.5 billion in gross value added to the UK by 2050, but we must ensure that we are ahead of the curve by not just deploying this technology for energy generation but harnessing its full potential by developing the manufacturing element as well.

The lack of bids in AR5 was incredibly disappointing for developers across the industry. Missing out on a year of development has increased uncertainty in the market at a time when both the EU and United States are offering more support to develop FLOW. It also put at risk £20 billion of short-term investment into the UK, which will be crucial for developing not just FLOW itself but the associated manufacturing and supply chain.

We are currently a global leader. Of the 200 MW of FLOW deployed worldwide, 70 MW can be found here in the UK. However, to maintain our position, we must provide developers with certainty and get this technology off the ground and out to sea. There is concern about FLOW being treated the same as fixed offshore wind in AR5. When fixed offshore wind was at a similar point in its development, it had access to final investment decision enabling for renewables and renewables obligations certificates. FIDER and ROC both provided revenue and business-case certainty, reduced competition and created the conditions for much-needed investment, and we are now reaping those benefits. Fixed-bottom wind farms were able to trial different cutting-edge technologies and take higher risks, where they could accurately model best-case and worst-case scenarios.

FLOW is currently in a similar situation. Pre-commercial projects in the UK need to be able to trial different approaches. FLOW will reach price parity with fixed, but with this new complex technology, it cannot be all about price at this stage in its development journey. As one industry expert observed at our last meeting of the all-party parliamentary group for the Celtic sea:

"We have to stop obsessing about cost reduction for a technology that has not yet been deployed at scale, that if we support it to get it going like we did for fixed wind, costs will fall. Cost reduction occurs by deployment of technology, not the passing of time."

The administrative strike price offered today for AR6, alongside the announcement that offshore wind will get its own pot, provides the Government with the potential to unlock a record level of investment in FLOW. To ensure we achieve that potential, I ask that the budget for offshore wind in AR6 is large enough that it is not consumed by one project, so that we can see as many eligible projects as possible get afloat.

That is counterbalanced by the need to ensure that the budget, to be announced next March, is not set so tightly that it forces violent competition during this fledgling stage of FLOW's development. Today's AR6 announcement is warmly welcomed by the industry and means we still have the opportunity to hit 5 GW by 2030, to safeguard those stepping-stone projects, and to cement our position as a global leader. It is also crucial to rebuilding confidence in the existing FLOW development pipeline. Now that we have the administrative strike price, I would welcome the bringing forward of AR6 for FLOW technology so that we can keep pressing to get FLOW afloat and minimise the delays caused by AR5.

Developing FLOW turbines and substructures is a considerable engineering endeavour, as substructures alone can be up to 80 metres across and weigh thousands of tonnes, with turbine heights expected to reach as high as 300 metres, as tall as the Shard. The manufacture and assembly of components will therefore need significant port requirements if the UK is to seize the first mover advantage. The £160 million floating offshore wind manufacturing investment scheme, known as FLOWMIS, which opened for bids this spring, is welcome, and the industry looks forward to seeing a fair share coming to key Celtic sea ports. However, funding decisions should be made on FLOWMIS as quickly as possible to allow our ports and supply chain to gear up for this huge opportunity, along with a strategic overview to ensure that ports work collaboratively to optimise supply chain expertise.

Developers also need certainty on leasing rounds to secure the sites they need to develop a full business case and make applications for future allocation round auctions. The recent update from the Crown Estate on the steps it is taking to increase transparency through the auction process was welcome. However, there remains uncertainty on the timelines for the leasing round, and it now appears leases will not be awarded until later in 2024. At this stage of technology development, it is essential that innovation projects start their journey now, if they are to succeed and help grow a flourishing UK supply chain. Initial opportunities need to be maximised to develop the capabilities to secure the economic benefits of the subsequent large-scale FLOW projects so that we can maximise exports to the growing global market in the future.

My right hon. Friend the Member for Preseli Pembrokeshire (Stephen Crabb) chairs the Welsh Affairs Committee. He could not join us today, but he has done a huge amount of work to support FLOW and the projects potentially coming onshore in south Wales, where community engagement has ensured that they are now hopefully ready to bid straight into AR6 and proceed. The Committee recently released "Floating Offshore Wind in Wales", which is a relevant document for this debate. I was glad to see its recommendation for the Department for Energy Security and Net Zero to work with the Crown Estate to provide visibility beyond the current leasing round and to bring out a strategy as to how it will be delivered.

Although I welcome the Government's response to the report that the "Powering Up Britain" energy security plan already sets out the steps that they are taking, it would be good to see a more strategic lead on the development of FLOW, especially in the Celtic sea, where it is a brand-new technology. We need to look at the development of FLOW strategically, particularly in the Celtic sea and at a national level. We must work on the main prize, which is the gigawatt arrays and getting the demonstrators that are ready to proceed afloat.

Far too much time and energy is being spent in my constituency on the distraction of the seven turbines of White Cross. The time it takes to get these projects afloat means that early decisions are out of date by the time we get to crucial decisions. Indeed, the controversial White Cross project due to come ashore in my North Devon constituency may have only been able to secure a plug-in point at Yelland when it applied back in 2021, but National Grid seems to think now that it would be possible to connect at Alverdiscott, where the majority of the other projects coming into England will plug in. However, I suggest that this hugely unpopular project at White Cross, which has now attracted more than 500 objections from across North Devon, including from our Biosphere, Natural England and an energy expert, will never get through planning. Community consultation and engagement are vital for such projects to succeed. This project is being bulldozed through my community, taking up vital local authority planning time when planning is the No. 1 reason that development of all types is delayed in North Devon.

In its objection to the development, Natural England said it still has fundamental concerns about the application as currently submitted. It also asks that the application is put on hold until further information and evidence are provided. I hope that someone can look more strategically at the Celtic sea, incorporate White Cross into the main projects and consider the whole Celtic sea project as one national infrastructure project, rather than subjecting small planning authorities to this amount of additional work. Indeed, we should learn from what happened down the east coast and secure one cable corridor in the Celtic sea, probably a split into Pembroke and Alverdiscott. We do not need one into Yelland as well. We should recognise that areas that rely on tourism are potentially less receptive to cables landing in beach car parks and to reduced income for multiple businesses in the area. I hope the Minister can bring whatever powers his Department has to bear to ensure that White Cross, if it goes ahead, delivers proper community benefits, fully recompenses the community for the inevitable damage to our core current industry, and shows more respect to the community of North Devon that I represent than its engagement programme has to date.

I set up the APPG for the Celtic sea to bring a strategic overview to the development of FLOW. That is not only about the process of getting the turbines afloat, which is obviously the priority, but looking further down the line to the supply chain, where cabling will land, the use of our marine areas, the environmental concerns, the operation and maintenance of the turbines once they are afloat, and how we service what should be an enormous industry in our region.

As has been seen with the proposed White Cross development in my constituency, many people who are otherwise supportive of the development of FLOW are concerned when it has an outsized and unnecessary impact on the local environment and businesses. It is crucial as we move forward that cabling routes are planned for the 250 turbines to minimise the disruption of blue carbon locked into the seabed, and we need to continue to focus on that long-term objective of getting the 250 turbines afloat.

Similarly, consideration needs to be taken for local industries, such as fishing, and of the effect that turbines will have on marine wildlife, such as seabirds. It is certainly not the case of supporting one of those things over the other, but by considering the development as a whole, we can minimise the impact the turbines and associated activities will have and can ensure that we develop clean green energy with community support.

As I have laid out, FLOW will be key to our secure and sustainable energy future. While I welcome today's AR6 administrative strike price, I reiterate my ask that the AR6 for FLOW specifically—if at all possible—is brought forward. There is a concern that even the one- year delay may cause a far greater delay to these projects due to international supply chain pressures. We cannot lose our first mover advantage and watch development of this exciting technology float overseas. I ask the Government to consider the Celtic sea development as a national infrastructure project so that we can consider it as a whole and bring the benefits to all our communities in the south-west and in Wales as swiftly as possible. Clear long-term plans are the best thing for the industry and the other industries that rely on our beautiful coastal areas.