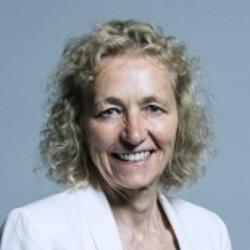 Christina Rees

- Hansard - -
I am very sorry to hear of the hon. Lady's constituent's trauma. I am an animal lover and a dog lover. When something happens to someone's pet, it is very traumatic. The hon. Lady made a lot of valid points, and I am sure the Minister was listening.

As I was saying, we need a single dog control Act that consolidates the current complex legislative framework in a breed-neutral way, and we need to use dog control notices proactively to help prevent incidents involving dangerous dogs. There should also be stronger penalties for irresponsible owners.

Dog welfare is compromised on a daily basis as a result of breed-specific legislation. Dogs are put down, kept in kennels for long periods, especially when a decision about whether a dog is a banned type is challenged, or subject to restrictions after the granting of an interim exemption order. Under such orders, which are recommended by DEFRA, the dog owner is assessed as being a "fit and proper person" and the dog is assessed to be of good temperament, allowing the dog to be returned to its owner under exemption conditions. The dog must be microchipped, neutered and kept on a lead and muzzled while in public spaces until the case is heard in court.

There should be new provisions to ensure that the welfare of dogs kept in kennels is safeguarded. The UK Government's responsible dog ownership steering group is welcomed. It is hoped it will lead to useful changes around education, data and enforcement, but it is disappointing that breed-specific legislation is not included. Such legislation is ineffective at protecting public safety and results in the unnecessary suffering and euthanasia of many dogs. It should be repealed and replaced with positive interventions that do not compromise dog welfare.

There is no mandatory requirement to report dog bites, but research suggests that people are more likely to report a bite from a suspected prohibited type. The Office for National Statistics lists 78 deaths from dog bites in England and Wales between 1981 and 2015. The RSPCA found from media reports that, of the 34 fatalities between 1989 and 2017, only nine involved pit bull types. Of the 35 reported and registered dog bite fatalities in the UK between 2005 and 2013, specific breeds were reported in 11 cases, but only two involved pit bull types. Between 1992 and 2019, only 8% of dangerously out-of-control dog cases involved banned breeds.

The coalition believes that identifying certain types of dogs as dangerous can create a false sense of security by over-simplifying the situation. Aggression in dogs is a complicated behaviour, involving a range of factors such as breeding and rearing, experiences throughout a dog's lifetime and, for some dogs, being continually kept on a lead and muzzled in public, which can inhibit natural behaviours and, in some cases, increase aggression.

I also met with Jayne Dendle, who set up the south Wales charity Save Our Seized Dogs to help owners who have had their dogs taken from them under the Dangerous Dogs Act. Jayne started her charity after she came across a story about a therapy dog that had been seized as a potential pit bull type without being involved in any incidents. The owner was a local authority tenant who discovered, after her therapy dog was assessed as an exempt dog, that she was not allowed to keep her dog in her property. Jayne got involved because she wanted to help.

Jayne told me that the costs of challenging a decision about a dog being a pit bull type are prohibitive, so her charity can help only a small number of owners. The legislation requires the owner to prove that their dog is not one of the four banned breeds, which is an onerous reversal of the burden of proof. When a dog does not conform to the proportional measurements and appearance of a banned breed, Jayne recommends that the dog owner obtain an independent assessor's report. Such reports are comprehensive and run to several pages, while police evidence is often one paragraph setting out why they think the dog is one of the four banned breeds. The cost of an independent assessor's report is between £800 and £1,500, but it is often the only method that will save a dog.

Unfortunately, when an owner declares that they will pay privately for a second opinion, the option of an interim exemption order is often withdrawn, and some police forces do not even use the interim exemption order scheme. However, there are many benefits of an interim exemption order: kennelling costs are kept to a minimum; kennel space is freed up for dogs that are of genuine concern; a dog is not away its from home for a long period; there is less pressure on courts to provide a hearing date, and I am sure that Members know about the massive backlog of court cases; and breed-specific cases are of low priority.

Jayne found cases where police forces had encouraged an owner to sign over their dog, which had been identified as being of a banned type, so that the dog could be put down and the owner could avoid facing criminal charges. She believes that training for dog legislation officers is insufficient and should focus more on identifying banned breeds.

The welfare of seized dogs is of great concern. When they are returned to their owners, they are often underweight, have sores from sleeping on concrete floors, have damaged teeth from chewing on the bars of the kennel cage, and have parts of their tails missing from wagging them in an enclosed space. The police keep their kennel and vet costs to a minimum, which leads to poor welfare of seized dogs. Jayne has dealt with several cases in which young dogs that were previously healthy were found dead in police-approved facilities. Puppies are often seized when they are under eight weeks of age because there is a suspicion that one or both of their parents may be of a banned breed, but how can the assessment be accurate when good practice suggests that adult dog maturity is only achieved at around nine months of age? Jayne recently dealt with one such case where the puppies were released at eight months, having been declared to be not of the banned breed type. The puppies were under-socialised, not familiar with living in a household environment, and very scared. Jayne suggests that puppies could be allowed home on a similar scheme to the interim exemption order scheme until they reach maturity, when they could be properly assessed.

In conclusion, I have some questions for the Minister. Will the UK Government commit to implementing the Environment, Food and Rural Affairs Committee's recommendation that there be an independent evidence review to establish whether the banned breed types are an inherently greater risk than any legal breed or cross-breed? Will the Government ensure that all dogs affected by the Dangerous Dogs Act 1991 have their welfare needs met and safeguarded? Will they ensure that all police forces use the interim exemption order scheme? When police forces do not use the interim exemption order scheme, the Government must protect dogs by developing and applying evidence-based, up-to-date kennelling standards.

Will the UK Government allow the rehoming of all dogs seized under the Act by responsible, reputable, rehoming organisations that are assessed through robust procedures? Will they permit independent assessors to review the welfare of dogs that are being kept in kennels pending a court hearing? Will they ensure that there are no contingent destruction orders, and no requirements placed on exempted dogs, such as a requirement to be muzzled in public, when it has been established that a dog seized under the Act does not pose a danger to the public? Will they explore alternatives to breed-specific legislation? Those could range from promoting and fostering responsible dog-ownership communities and allowing for early and preventive interventions, such as dog control notices, to imposing severe penalties on owners who use their dogs to frighten or intimidate. Finally, I should be very grateful if the Minister would meet the petitioner.