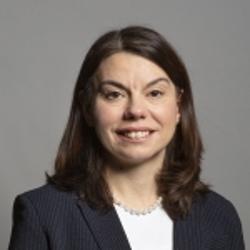 Sarah Olney (Richmond Park) (LD)

- Hansard - - - Excerpts
I am grateful to Mr Speaker for granting my request for a debate on the cost of court transcripts. Justice should not have a price tag, as I think we would all agree. Yet many victims are being denied access to justice because they cannot afford to pay thousands of pounds to obtain court transcripts. Not only are these extortionate costs unaffordable, but they are a major barrier to victims' recovery.

This issue was first brought to my attention in August when my constituent, Juliana Terlizzi, approached my office for assistance in obtaining a court transcript. In 2020, Juliana was drugged and then raped in her sleep by her former partner. She was then forced to wait two years for her case to be heard in court. Backlogs and chaos in the court system pushed back the date time and time again. Meanwhile, her attacker was free to walk the streets and use dating apps to search for other women.

In January 2022, Juliana's attacker was finally convicted, but she can barely remember what was said in the courtroom due to trauma and emotional distress. Following the trial, she was advised by a therapist to apply for a transcript of the proceedings to aid her healing; this transcript would enable her to revisit and process what was said in court. She made an application to the court for a free copy of the transcript, but her application was rejected. She was told to contact one of the private companies outsourced by the Government to supply transcripts. Upon doing so, she was quoted a fee of an astonishing £7,500. This was £7,500 to read what happened in a trial in which Juliana herself was the victim—£7,500 to revisit what was said while her trauma was discussed by strangers in a courtroom. That cost simply does not stack up. How can it be so high and why must Juliana foot the bill?

My team and I began to research this issue some more, and I soon discovered that Juliana's extortionate quote was not an isolated case, with some victims facing fees of up to £22,000. How can anyone be expected to pay such a fee? Court transcripts should not be a luxury that only those very few victims with thousands to spare can afford. Transcripts are so important, because they are often the only means available to victims to establish exactly what happened during a trial. Victims and bereaved families routinely do not attend trial. Some choose not to attend in order to avoid reliving their trauma. One victim told me that she would have been forced to sit with her abuser's friends and family in the gallery if she were present at the sentencing hearing. Others are misadvised by the police and court staff on their right to attend trial. Shockingly, some victims are actively discouraged from attending and told that their presence would be a distraction to the jury.

Although the technology exists, victims are often not offered a video link to watch the trial remotely. There is a major lack of transparency of justice and a lack of information provided to victims. Most victims will find out the verdict only by a phone call. If the outcome is not favourable, what then? How can a victim even begin to come to terms with the verdict when they have no means of understanding how it was reached? Even for victims such as Juliana who are able to attend trial, a combination of trauma and legal jargon means that it is extremely difficult to recall what was said. Transcripts are therefore a vital source of information for victims and bereaved families. Transcripts can support their understanding and allow them to take steps towards recovery.

The UK justice system is failing victims, who feel like bystanders to justice. They have no contact with the prosecution, no insight into proceedings and very limited information on their rights as a victim. Victims have told me that their experience in the UK justice system was retraumatising—one even described it as more traumatising than the crime committed against her. Our justice system must work to support victims and to encourage them to come forward. Without victims bravely reporting crime, there can be no justice.

Yet there are currently many disincentives to reporting a crime. Our courts are still plagued by backlogs and delays. Victims face average delays of 679 days between a crime being committed and cases concluding at court. Justice delayed is justice denied, and it allows criminals to continue to walk the streets for far too long.

The Conservative Government's failure to get to grips with the backlog is letting down victims and their families, witnesses and defendants, and it undermines public confidence in the justice system. Even when crimes are reported, in many cases the outcome is not favourable. According to Rape Crisis, just 2% of rapes recorded by police between July 2022 and June 2023 resulted in someone being charged that same year, let alone convicted. For those victims who finally see their case brought to court, once the verdict is reached, they are tossed aside. Things have to change.

The Victims' Commissioner for London has been working tirelessly to shine a light on the experiences of victims in the UK justice system. I met the commissioner to discuss the urgent reforms needed to better support victims, and I am proud to support her campaign for greater transparency in our justice system.

The Justice Committee looked into the issue of court transcript costs. In three separate reports over the last 18 months, the Committee recommended that the Government take steps to improve access to court transcripts and reduce costs. The Scottish Criminal Justice Committee also completed an inquiry into transcription fees, and a successful campaign led by rape survivors secured a commitment from the Scottish Government to set up a pilot scheme to waive court transcript fees for victims of sexual violence. Yet Ministers in Westminster continue to sit on their hands and allow private companies to pass extortionate costs on to victims.

The Victims and Prisoners Bill presents the perfect opportunity to address this gross injustice. Today, I published an open letter to the Justice Secretary calling on the Government to make provisions within that Bill to enable victims and bereaved families to request a court transcript free of charge. I am delighted to be supported by 40 co-signatories, including Members from six different parties across the House, among them the Mother and the Father of the House and the Chair of the Justice Committee. I am also joined by the Victims' Commissioner for London and senior figures from the charities Refuge, Rape Crisis, Women's Aid and Support after Murder and Manslaughter. We stand united in supporting victims and their right to access justice.

The Government often pay lip service to the importance of transparency and accessibility of justice. In response to a written question I tabled in September, the Minister wrote:

"Accessing transcripts from proceedings in serious criminal cases is not only a fundamental right of victims but is also essential for maintaining transparency and accountability within the justice system"

I welcome that statement from the Minister and I whole- heartedly agree with his position, so why are the Government refusing to take steps to ensure victims are able to access timely and accurate transcripts free of charge?

The Minister will point to the mechanisms already in place to enable some victims and their families to obtain transcripts, such as permitting sentencing remarks to be made available at the judge's discretion or measures to provide families bereaved by homicide with sentencing remarks. But that is not enough. Countless victims are still unable to afford a transcript and, as proved in cases such as Juliana's, more often than not, victims will be told by the judge that their case does not meet the very narrow criteria for a free transcript.

The Government have said that providing transcripts to victims free of charge would result in significant cost, but that is not necessarily the case. There are steps the Government could and should be taking to reduce costs. In a report on open justice, published last year, the Justice Committee recommended that His Majesty's Courts and Tribunals Service should explore whether greater use of technology, such as AI-powered transcription, could reduce the cost of producing court transcripts. Will the Minister provide an update on whether that recommendation has been acted on?

Additionally, will the Government look to assess the value for money of contracts it holds with private transcription services? Are victims really getting the best possible deal? Is £7,500 a fair price to pay? I wrote to the Minister on 15 September to set out proposals to provide an audio recording to victims upon request. It should be possible to provide that at low or no cost, as recordings are already made of Crown court proceedings. Two days ago, I received a response from the Minister that said his officials would give the matter careful consideration. I look forward to hearing more when some progress has been made.

The Government cannot ignore victims any longer. Victims and bereaved families need access to full, accurate transcripts of court proceedings. Anything less will be an injustice. I have tabled an amendment to the Victims and Prisoners Bill that will enable victims to request a transcript of court proceedings free of charge. I urge the Government to accept the amendment in order to finally show victims that they matter, that they did the right thing in coming forward and that the UK justice system will support them, during the trial and afterwards. Ahead of the Bill's Report stage, will the Minister meet me to discuss my amendment and the experience of my constituent? His engagement on this issue is vital if the Bill is to succeed in delivering a positive outcome for victims.

I thank the victims, advocates and charities that have taken the time to share their experiences and insight with me. Without their tireless campaigning, change could never occur. I now hope the Government will honour their work and commit to improving transparency and accessibility of justice for victims. For that, victims need access to full transcripts, free of charge.