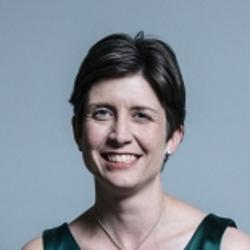 Alison Thewliss

- Hansard - - - Excerpts
I thank my hon. Friend for that intervention, and for all the work she has done to highlight the issues facing people on prepayment meters. That is an absolutely brutal way to go about your business: forcing your way into people's homes, forcing people to take prepayment meters, and then clawing back money off them that they could have used to heat their house, rather than to service a debt caused by soaring energy prices. The energy companies have made significant profits out of these people—profits that really have not been earned through anything that the companies have done, but that have resulted from global circumstances. People in our constituencies in Glasgow are paying the real price for that, living in cold, dark flats through the depths of winter.

A woman wrote to me who lives in a new-build flat. She is in debt now. She works full time, but has had to ask for payment holidays on her credit cards and other loans. She is not the type of person who gets into this situation. She said:

"I have had to cut my food shop. I live now on soup and sandwiches. I don't put my heating on unless it's freezing. I don't have any disposable income now and I'm contemplating giving up my car".

The impact of these high bills on whether people can afford to eat properly is stark. Another woman reported:

"I can't cook during the day on weekdays. I can only cook at night or weekends in order to save energy and money. I can't cook my local or native food because it takes longer to cook. We eat more junk foods which is not healthy for us."

People recognise that this is causing them harm, but there is really nothing that they can do about it. A gentleman who has diabetes reported to me that he goes to bed early, he feels cold all the time, and his diet is not good owing to money concerns. Another woman told us:

"I was worried about accidentally running hot water as it would cost so much. I refused to have friends or family around because I was embarrassed to be living like that."

Even those in new-build houses are struggling, with one constituent reporting that the house ventilation system in her new home cost 15p a day in 2015, and now costs £1 a day, which is a 600% increase. As a result, she opts to use it only when the condensation starts to build up, and after mould has appeared on the windowsills. That is no way for people to live, but they simply do not have the money to make ends meet. Another constituent reported that the price of her gas and electricity had risen from £72 to £184 a month. The family are supported through universal credit, and there is no means of getting extra money in. I do not understand how this Government expect people to live.

The survey asked people who were not comfortable putting the heating on what alternative methods they used to get warm. Some said that they would not even boil the kettle for a cup of tea, while others, including a pensioner couple, reported going to bed early to stay warm. Many respondents said that the cost of energy bills had caused them stress or other adverse mental health issues. Some had physical health issues such as fibromyalgia, anaemia or even cancer, which they felt could be alleviated by a warm environment in their homes. It is even more worrying that so many—including the constituent whom I mentioned earlier—reported damp and mould in their home, which is a risk factor for future respiratory problems. One said that they had to paint rooms twice over the last year, to cover up damp patches.

I am aware that housing associations in the area are worried about the impact on their tenants and housing stock in the long term. Although they had some money to distribute to their tenants through the Scottish Government's social housing fuel support fund, that does not fix the systemic issues, which are reserved to Westminster. One of those systemic issues is the regulation of heat networks—an issue that has affected people in the Riverside Dalmarnock development. In January this year, those residents, whose heating is supplied by a communal boiler system operated by the company Switch2, received a notice informing them that the price of a kilowatt-hour of gas was increasing from 12p to 33p. That has had a serious impact on many residents, a number of whom have disabilities, because the development was sold to them on the basis that it was accessible and affordable. One resident reported no longer using gas and washing in cold water; electricity was okay, but Switch2 had increased the cost of heating to unrealistic levels, and the resident could not afford hot water. The price of gas had risen from between £40 and £55 to £160 for the same usage.

In the post-covid "working from home" environment, some people are weighting up the cost of transport versus the cost of energy. One of my constituents said:

"If I work from home my home bills go up and my employer saves. But if I commute to work I need a car and fuel costs a lot too. I don't have a choice and just have to foot the bill. I can't default as it will affect my job."

These constituents do not have alternative options for heating. The homes in that development are not equipped with traditional boilers, and cannot be supplied with heating in any way other than via the communal heat network. Switch2, for its part, purchases direct from energy providers and passes the cost on to its customers. The issue with the lack of regulation and support is not really of its making.

For those on communal and district heating, the energy bill relief scheme failed to provide the support that other energy customers across the UK managed to get, and the energy price guarantee does not apply to homes on heat networks. The regulation of heat networks remains forthcoming; plans for that were set out in the Government's Energy Bill, but those plans are unlikely to be implemented before the winter. These constituents cannot wait. They cannot live in fear of prices going up still further. They need real support with their energy bills now, not after the situation has worsened. Can the Minister confirm the date on which those regulations will be put in place? May I also ask her what assurances can be given to those who are on heat networks? At what rate will the price be fixed when the regulations come into force? Will it be the rate that customers pay now, or the rate that they will be paying at that time? The prices may have gone up again by then. What information will they receive about the implications of these new regulations?

I would like to make a few points about business customers, because there is a relevance to them, too. A large employer in the east end came to me despairing that they could not cope with the price increase that they faced; they worried that they would not be able to keep their staff. They strained every sinew to keep their loyal staff during the pandemic, and they want to do right by them now. They felt thoroughly unsupported by the Government and, like many businesses, they are now marooned on a very high tariff, which they will be stuck with until it comes up for renegotiation. What more is the Minister doing, in conjunction with the regulator and suppliers, to tackle the patent unfairness of some businesses being stuck on a high tariff and struggling to pay their staff, while other businesses have a much better deal? There has also been scant support from the UK Government for the third sector. It should be a real source of shame that the churches and community centres that provide some of the most valuable support for vulnerable people also face these kinds of contracts, and have had to consider closing their doors because of the price of energy.

There is a further complexity for a particular group of business customers in my constituency—those who operate the Showpeople's yards that I mentioned earlier. One of my constituents operates several yards and cannot get an explanation from his supplier, Scottish Power, as to why he is on different rates for different yards in the same street. He has had to pass the costs on to the tenants, and they too are struggling to understand the disparity. His costs have also gone up dramatically, as everyone else's have. For example, he is paying three times as much for gas and electricity, which has gone from 17p per kW and a 28p standing charge to 56p per kW and an 81p standard charge. He has also struggled to get support, in common with others known as park home residents.

I received an email this week, by coincidence, from an organisation called Charis, which is administrating a warm home discount scheme for park home residents, but as it is benefit-dependent and targeted towards a group of people who traditionally do not claim benefits and are self-employed, I would question whether this scheme will really reach those who desperately need it right now. They have already waited a considerable time for this help to come. I ask the Minister to consider what more can be done for this group of people. On a technical point, how she will monitor the uptake of schemes such as this?

Temperatures in Scotland have already started to drop. It was 0° with frost on the ground in Glasgow on Monday morning this week, and there is the prospect of further chills. The Minister cannot wait—and my constituents cannot wait—for the freezing temperatures to hit the south-east of England before she takes further action on this. In Scotland, we are doing what we can in a grim situation. The Scottish Government have invested in social housing, and they introduced the energy efficiency standard for social housing in 2014. As a result, homes in the social rented sector are now some of the most energy-efficient in Scotland, with 85% achieving level D or above on their energy performance certificate. We are working hard to tackle fuel poverty, but responsibility for the structural issues and the cost of energy, which affect our constituents, does not lie with us; it lies in this place, and it is for this Government to try to fix them.

Today's Joseph Rowntree Foundation figures on destitution in the UK make for utterly grim reading, but they find that the actions the Scottish Government are taking, such as the Scottish child payment, mean that

"Scotland has improved its position to lie below the GB average, having experienced by far the lowest increase since 2019."

But these are just a few glimmers of light when energy and food prices are driving 3.8 million people across the UK into destitution.

It is beyond comprehension to me that people can be shivering this winter in energy-rich Scotland. It does not have to be this way. Independent Ireland will invest some of its budget surplus into energy support to see people through the winter. I urge the Minister, who I know is very keen to help, to do what she can to support people in Dalmarnock, in Glasgow and in the rest of Scotland with their energy costs. We face particular challenges. It is colder and people need that support. We need to reform the market to make it fair for the customers, not the shareholders. The will to change does not come from Westminster; it will come from an independent Scotland.