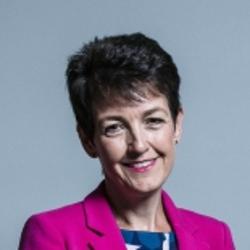 Jo Churchill

- Hansard - - - Excerpts
My hon. Friend speaks both as a Member in this place and as an esteemed member of the veterinary profession, pointing out that we are not looking for an all-or-nothing approach here. That is very timely, and I thank him for it.

Sadly, we have seen a number of tragic fatalities from dog attacks in recent months. Many of them have involved children, but not exclusively so. The Government are already taking action to address that. I will set out what we are doing, working with the other stakeholders that I mentioned. Indeed, I was heartened that the hon. Member for Neath referenced how some of the work is beginning to get under way.

We have been working with stakeholders, including the police, local authorities and—a couple of hon. Members asked about this—the devolved Administrations, in order to develop simple key messages to promote safer interactions, in particular between children and dogs. The dog safety code launched last week highlights three key messages to all dog owners and families with children. As the hon. Member for Chesterfield said, and as we know in our home, a family pet is a great asset but has its own needs, and those needs have to be cared for. Dog owners should be alert and always keep an eye on their dog when it is around children. They should not leave them alone together. They should be aware and get to know their dog—dogs use signals to tell us when they are stressed. Be safe, because any dog can bite and accidents happen very swiftly.

Today is the start of Child Safety Week, and the Department of Health and Social Care and the Department for Education are sharing that messaging, which will also be used by health visitors and child safeguarding professionals. We will continue that over the summer holidays, because we want the dog safety code to be embedded in future communications. At this point, I put on the record my thanks to Marisa Heath of the Canine and Feline Sector Group for her support in co-ordinating that work. As many have said today, others helping to get this right is what we need.

Members are well aware of the work that we commissioned from Middlesex University to explore measures to reduce dog attacks and to promote responsible ownership across all breeds of dog. We published that report in December last year, and in response to it we established the responsible dog ownership project with the police, local authorities and animal welfare stakeholders, to consider the report's recommendations in detail, build on the evidence base and provide advice to the Government.

Four areas are examined, and I will go into some of the specifics, in particular to answer some of the questions of the hon. Member for Neath, although many Members present brought up areas such as enforcement. The project is looking at strengthening enforcement; developing and supporting education initiatives, which is seen as key; improving the quality and accessibility of dog training; and—I think this was brought up by virtually every Member who spoke, but certainly by the hon. Members for Neath and for Rutherglen and Hamilton West (Margaret Ferrier), and my hon. Friend the Member for Southend West (Anna Firth)—the importance of data collection right across the system, whether by hospitals when there have been attacks, veterinarians or the police, so that we know what we are dealing with. We expect that project to conclude its work in early 2023. The Government will then consider the advice and work through the next steps.

To address the point about breed-specific legislation not working, repealing the breed-specific provisions without other changes would not help public safety. That is why we are working on ensuring we have the right evidence base. We are not willing to repeal the breed-specific provisions contained in the Dangerous Dogs Act without other changes being made. We need to walk carefully through these things and make sure that we reach the right conclusions.

The hon. Member for Neath talked about rehoming exempted dogs. Current legislation only permits the transfer of keepership of prohibited dogs when the existing keeper has died or is seriously ill. Case law has also confirmed that a person with a pre-existing relationship with the dog can apply to place it on the index, even if they are not the owner or the most recent keeper.

The hon. Lady also raised the issue of putting down good-natured dogs. Any changes relating to rehoming must consider the signals that sends about the acceptability of keeping those types of dogs. We must ensure that we draw the right balance and find the middle ground so that legislation is both workable and enforceable, and cares for the animal in the best possible way.

Several hon. Members spoke about why the data is lacking. The report by Middlesex University highlighted that much more could be done about the recording of dog attacks. As I have said, we are working with the institutions I mentioned, as well as NHS Digital, to make sure we get that data in a timely way.

On the question of how we address dog attacks by other breeds, section 3 of the Dangerous Dogs Act makes it an offence to allow a dog of any breed or type to be "dangerously out of control" in any place. In addition, the Anti-Social Behaviour, Crime and Policing Act 2014 includes specific measures to enable the police and local authorities to tackle irresponsible dog ownership before a dog attack occurs, including through the use of community protection notices. It is important that we know what legislation we have already, and why it is or is not working.

On dog-on-dog attacks, I extend my enormous sympathy to the constituent of my hon. Friend the Member for Southend West. I have heard my hon. Friend talk about the attack on her constituent's dog before and it sounded utterly horrific. Existing powers allow dog-on-dog attacks to be tackled, including through issuing community protection notices, as I just mentioned, and through prosecution under the 1991 Act and the Dogs Act 1871. The Animal Welfare (Kept Animals) Bill will bring in new measures to crack down on dog attacks on livestock. We do not want to bring in legislation piecemeal and we want to get it right.

The hon. Member for Neath asked what we can do to look at the time dogs spend in kennels. The interim exemption scheme allows dogs to remain with their owners in advance of a court hearing if the police determine that the dog will not pose a threat to public safety. I assure her that DEFRA officials are working with police forces across the country to increase uptake of the interim exemption scheme. Commercial kennels are required to meet the standards placed upon them and are licensed by the local authority.

The hon. Member for Chesterfield said that dogs should not be judged by their appearance. The Middlesex University report does not go so far as to say that we should move away from breed-specific legislation, but it recognises that a range of factors need to be considered. That is why I hope that when the project comes forward early in 2023 we will have the framework to move forward.

On responsible dog ownership, the report recommended that we look at additional legal requirements on dog ownership, including, as a basic standard, that dog owners must demonstrate a minimum standard of dog knowledge and be on a register attesting to that fact. We are also looking to improve the microchipping regime, because those databases are complex—I think there are 17, and they need to be brought into one place.